Trusted Leader in Restoring Properties and Rebuilding Lives, Since 1986
24/7 Emergency Services
CDC Approved Disinfecting Techniques in Detroit, MI
Achieving a virus contamination-free environment comes with the knowledge of proper disinfecting techniques. Without it, no matter how deeply you clean your living area, you will still be at risk of falling ill. 
Let Concraft clean your living or office space with CDC Approved Disinfecting Techniques that are tested to be the most effective. Our specialists are trained with the best practices and safety protocols provided by the CDC to bly fight COVID-19. We also use CDC-recommended EPA-Certified Surface Disinfectants to safely remove and destroy harmful viruses.
CDC Recommended Disinfecting Guidelines for Healthcare, Educational Institute, and More
CDC has approved special guidelines to follow for each type of establishment to be disinfected. Experts have recommended additional and different approaches to disinfect healthcare centers, food joints, restaurants, hotels, schools, and more. Concraft is cordially updated with the various disinfecting techniques for each building type and follows them accordingly to provide a safer and cleaner environment. Contact us today at 248-265-3438 for specialized disinfecting services in Southeast Michigan.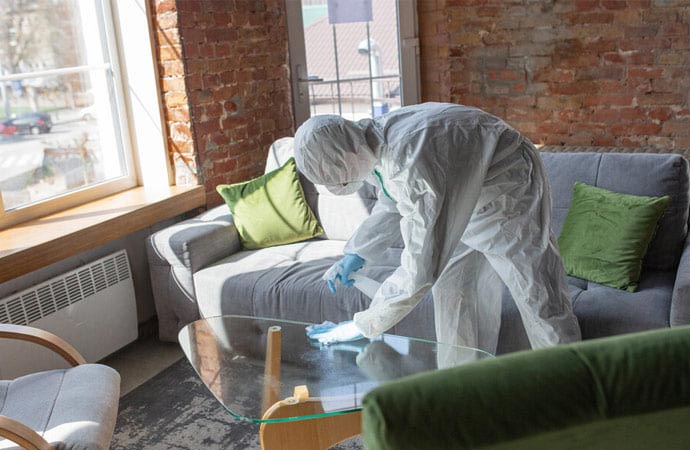 We Provide Disinfecting Services for
Healthcare Centers
Office Spaces
Municipal Buildings
Commercial Buildings
Schools 
Daycare
Hotels 
Restaurants
Shopping Centers, and more
Sterilized, Safe & Healthy Environment With Concraft in Troy & Novi
Cleaning is the necessary first step of any disinfection process. Cleaning removes organic matter, salts, and visible soils, all of which interfere with microbial inactivation. The physical action of scrubbing with detergents and surfactants and rinsing with water removes substantial numbers of microorganisms. Experts have researched various methods and techniques to find out the most effective way of removing bacterial and virus contamination for human living environments.
Likewise, Concraft performs all proven methods including ULV fogging and wipe-down/wet-down procedures approved by the CDC to ensure perfectly clean and pathogen-free surroundings.
Our extensive COVID-19 & virus cleaning services are available in Canton, Plymouth, Waterford, Troy, and more nearby cities in Southeast Michigan. If you are looking to get your living space or office area disinfected, call Concraft at 248-265-3438 for proven techniques of achieving a completely sterilized environment.