Fire & Water Damage Restoration in Plymouth
In the heart of Plymouth, a city brimming with history and charm, disaster strikes when fire and water wreak havoc upon its beloved structures. However, the localities have access to appoint the restoration professionals of Concraft to restore their property from fire and water damage.
Experiencing a fire or water damage event can be problematic, especially when you have valuable goods on your property. But rest assured because the top restoration company Concraft is available there to provide you with water damage restoration and fire damage restoration services. Not just these, our services include storm & flood damage restoration, mold remediation, and also content restoration. Don't live with the problems, call us for help at 248-265-3438 or get immediate help now.
What Sets Us Apart?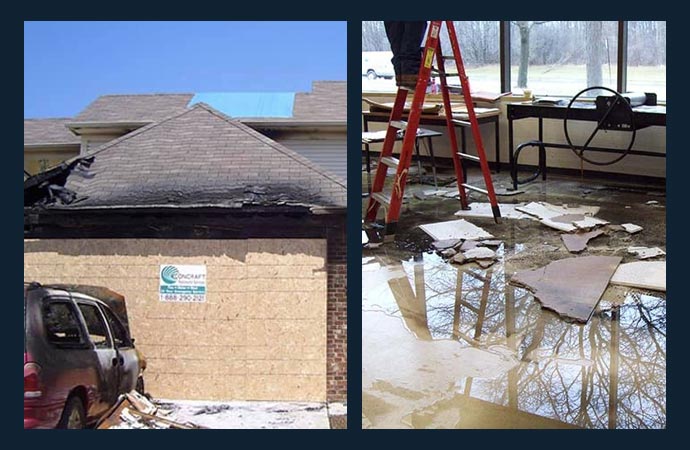 Expertise and Experience: With years of experience in the industry, our technicians are highly trained and knowledgeable in handling fire and water damage restoration projects of all sizes. We stay updated with the latest techniques and industry best practices to deliver exceptional results.
Comprehensive Restoration Services: Whether you've suffered from fire damage, water damage, or both, we offer a wide range of services to address all aspects of restoration. Our team can handle everything from initial damage assessment and mitigation to structural repairs, content cleaning, odor removal, and mold remediation.
Rapid Response: We understand that time is of the essence when it comes to fire and water damage restoration. That's why we prioritize quick response times to minimize further damage and prevent secondary issues such as mold growth. Our dedicated team is available 24/7, ready to respond to emergencies promptly.
Insurance Assistance: Dealing with insurance claims can be overwhelming. Our team has extensive experience working with insurance companies and can help you navigate the process smoothly. We provide detailed documentation, communicate with adjusters, and advocate for your rights to ensure a fair settlement.
Commitment to Customer Satisfaction: At Concraft, we prioritize customer satisfaction above all else. We strive to exceed your expectations by delivering quality workmanship, transparent communication, and personalized service. Our goal is to restore not just your property but also your peace of mind.
Call Concraft in Plymouth
Since 1986, Concraft has been in the restoration industry and serving with pride. You can always depend on us to have the damage restored. Our best restoration services are available at 248-265-3438.