Leaky Faucets & Fixtures in Detroit, MI
Is your faucet leaking? Avoid serious water damage with Concraft's help available 24/7. We are the leading water damage restoration and plumbing company in Detroit and Southeast Michigan region. We have been helping commercial and residential property owners recover from water damages since 1986.
Leaky faucets or fixtures may pose a threat if it goes unnoticed. A normal slow dripping leak can turn into a severe problem overnight. The leaking water may even damage surrounding structures such as furniture, wooden floors, walls, and more. Additionally, the moisture due to water leak may encourage mold growth and cause even more trouble. However, we can help you with water extraction, structural damage, insurance claims, and lots more.
If you want to avoid such mold problems and recover from the water damages, call Concraft at 248-265-3438 right away for leaky faucet & fixtures repair.
Common Causes of Leaky Faucets & Fixtures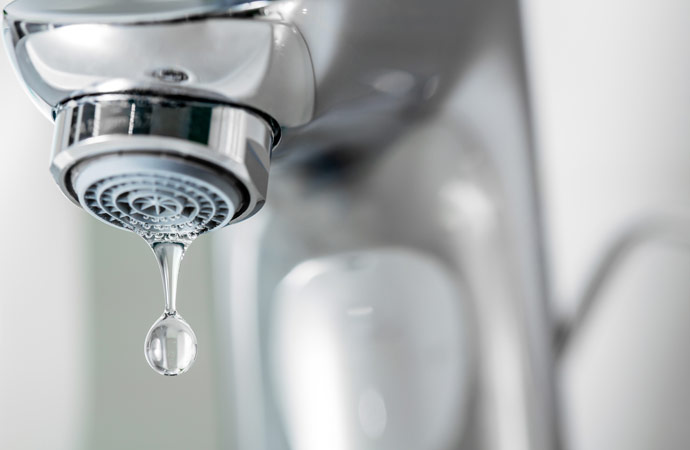 Bad O-Ring: One problem that occurs in cartridge faucets is a loose or worn-out O-ring. If your sink handle is leaking, this is the likely cause.
Worn-Out Cartridge: A leak in a cartridge faucet could also be due to the cartridge itself which might have worn-out and requires replacement.
Corroded Valve Seat: A buildup of water sediments can corrode the valve seat, causing a leak.
Worn-Out Washers: A common cause of spout leakage is problems with the washer that rests against the valve seat. Over time, the friction between these two parts can cause the washer to wear out. Faucet leaks can also occur if the washer is installed incorrectly or is the wrong size.
Worn-Out Seals: Inlet and outlet seals can become corroded by the accumulation of water sediments.
Water Pressure: If the faucet only tends to drip during certain times of the day, or when you move the handles a certain way, your home's water pressure could be the culprit. Your home water pressure variance, in turn, can be due to leaky pipes, clogged drain
Loose Parts: Loosening of faucet parts can be causing your sink handle to start leaking.
Broken Parts: If the leak is coming from the pipes underneath the sink, the cause is most likely a broken pipe or fitting. That's when you know it's time to call in a professional plumber.
Faucets & Fixtures Repaired by Concraft in Detroit, Pontiac, Auburn Hills & Canton
The plumbing professionals at Concraft are capable of repairing almost any kind of faucets including touchless faucets, wall-mounted faucets, and many more.
Ball Faucets
Touchless Faucets
Cartridge Faucets
Deckplate Faucets
Non-Deckplate Faucets
Compression Faucets
Wall Mounted Faucets
Leaky Faucets & Fixtures? Let Concraft Help You
Leaky faucets can be stopped before any serious damage is caused. Give us a call at 248-265-3438 when you spot a leaky faucet in your home. We are on standby 24/7 to help you in Brighton, Livonia, Saint Clair, Troy, and more throughout Southeast Michigan.
Ball Faucets
Touchless Faucets
Cartridge Faucets
Deckplate Faucets
Non-Deckplate Faucets
Compression Faucets
Wall Mounted Faucets
More Plumbing Solutions from Concraft