Warped Walls From Water Damage in Detroit
Water damage can cause structural harm to your home, even if it appears innocent. One of its subtle but significant effects is warped walls. This subtle yet significant shift is often overlooked when moisture from a storm, flood, or other water disaster sets in. It's a distortion that not only ruins wall appearance but also raises concerns about structural stability. So, whenever you find signs of warped walls, you should contact the water damage restoration specialists at Concraft immediately.
Let's dive deep into this topic and explore the causes, consequences, and more.
Causes of Warped Walls | Call Concraft
Ever wonder how water damage can alter the appearance of your walls? The following water damage, whether from leaks, flooding, or moisture, can lead to warped walls:
Leaky pipes: Water seeping through leaking pipes can saturate the wall's materials, causing them to expand and distort.
Foundation moisture: Excessive moisture around the foundation can wick into the walls and cause warping or structural damage.
Plumbing leaks: Undetected plumbing leaks within the wall cavity can result in gradual water infiltration, leading to distortion over time.
Inadequate sealing: Improper sealing around windows, doors, or other openings can allow water to penetrate and warp your walls' interiors.
Flooding: Sudden floods, whether from natural disasters or plumbing failures can cause rapid warped walls.
Damp basements: Basements with poor waterproofing can allow moisture to infiltrate and warp walls.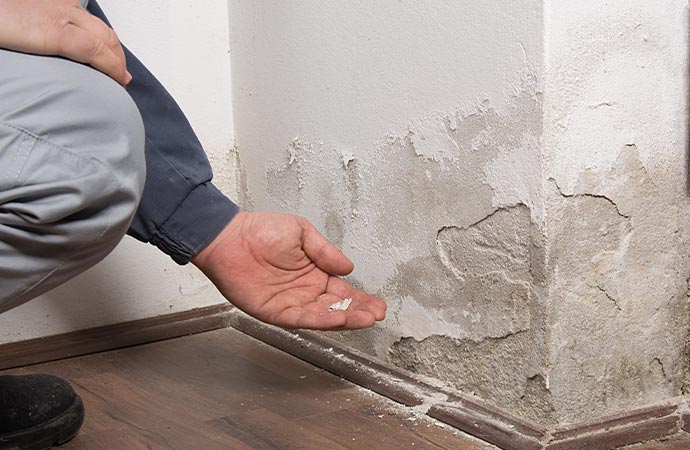 Warped Wall Water Damage | Steps Concraft Takes
Warped walls from water damage may at first seem daunting, but with the right approach, you can effectively address this issue and restore your living spaces. Here's how to handle warped walls and restore the structural stability and visual appeal of your property:
Identify the cause: Begin by pinpointing the root cause of the warped walls. Whether it's water damage, temperature fluctuations, or poor construction, understanding the underlying issue is crucial for effective solutions.
Consult professionals: Contact experienced contractors or restoration specialists who can assess the extent of the damage and recommend appropriate remedies.
Implement remediation: Depending on the cause, take necessary actions such as addressing water leaks, improving ventilation, or reinforcing structural components to prevent further warping.
Content restoration: If warped walls have affected your belongings, consider content restoration services to salvage and restore items that may have been impacted.
Preventive measures: Once the issue is resolved, implement preventive measures such as regular maintenance, moisture control, and proper insulation to prevent future warped walls.
Restore Warped Walls and Living Spaces with Concraft
When faced with the challenges of warped walls, remember that you're not alone on this journey. Concraft, a trusted name in restoration, stands ready to assist you in regaining the beauty and stability of your living spaces. Our team of experts is equipped with the knowledge and experience to address warped walls caused by water damage, structural shifts, and more. To learn more, call us at 248-265-3438 right away.