24/7 Emergency Response for Flood Damage in Michigan
Any damage to the water management system in your home can turn a restful situation into chaos. Every effort can be wasted if you don't know how to respond to such a situation. There's no timeframe for that and it's best when things are settled at the earliest moment and by an expert.
How nice it would be if you get that professional service at your doorstep to restore flood damages soon after you contact them? The certified team at Concraft is available in big cities including Chesterfield, Birmingham, Troy, and other service areas to restore damages in houses caused by flood damage. Our IICRC-certified team has long 3-decades of experience to bring back your peace. To get a 24/7 emergency response from us, dial or click here to set an appointment.
Benefits of Our 24/7 Emergency Response
The invisible defects are likely to be more damaging than the visible signs and they become more severe if you delay. We always encourage our customers to take action while they are in a good state and restoration requires less money, less time, and less complication. Our motto is to help you avoid every single trouble in advance so that no critical situation may come to ruin your sanity. That is the reason why our emergency response team offers 24/7 emergency response. Our emergency response team will provide you with-
Quick restoration
Improved safety
Reduction in infrastructural damage
Preservation of the strength of your home
We provide other water damage restoration services 24/7/365 for water pipe breaks, sewage removal & cleanup, roof leak repair, and many more. You can also rely on us for water extraction, toilet overflow cleanup, and more cleanup services after there's flood damage.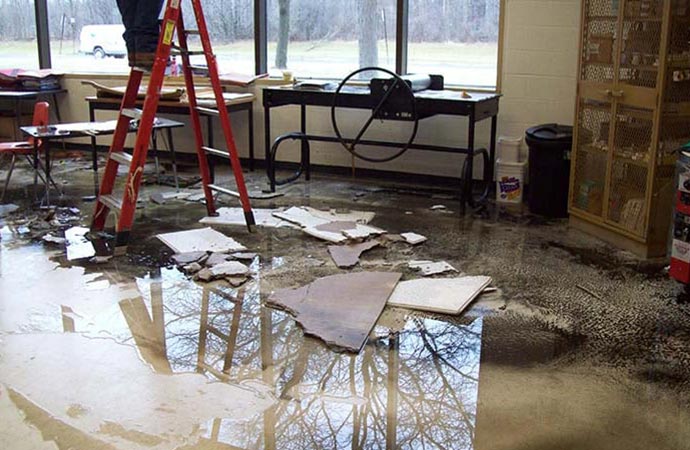 Rely on Us to Get Emergency Flood Damage Restoration
The ideal service is one that is delivered promptly and is of high quality and will last for a long time. Concraft's goal is your complete satisfaction, thus we strive to provide the finest service possible. And if you need any more convincing, consider the fact that we have been recognized with the Safety Excellence Award. Feel free and contact us anytime by dialing 248-265-3438 or clicking here and get the value of your home back.