Mold Remediation Services in Detroit
Concraft is a full-service restoration company serving the Greater Metro Detroit and Southeast Michigan areas since 1986. In addition to handling water damage and fire damage, we provide excellent mold abatement and remediation services. Our proven procedures remove mold, fix damaged areas, and restore the property.
The first step in effective mold removal is correcting sources of moisture identified using moisture detection equipment. All work is performed in negative pressure remediation chambers constructed of plastic sheeting and other barriers. The physical mold growth is removed or encapsulated when physical removal is not possible. The air is cleaned to reduce mold spores in the property back to a normal level. Any contents too damaged to salvage are disposed of.
Finally, we restore content that can be restored and treat your ventilation system to restore it to normal levels. Concraft serves residential and commercial customers in Auburn Hills, Bloomfield Hills, Detroit, Grand Blanc, and Romulus.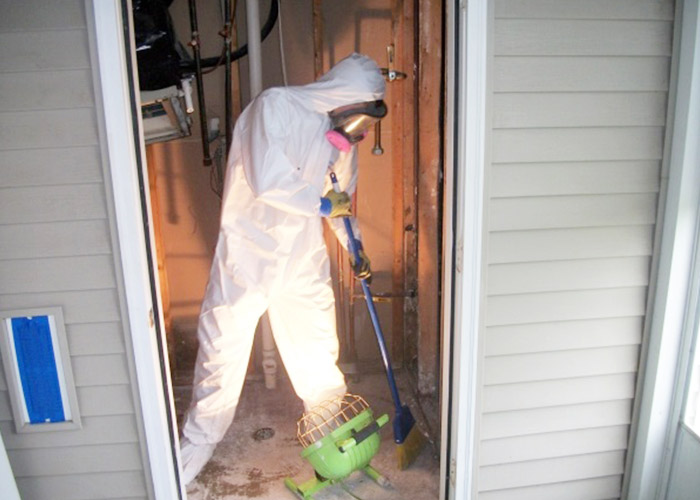 Concraft: More than Mold Remediation in Detroit, Pontiac & Southeast Michigan
At Concraft, we do more than restore properties. We also help to rebuild lives for customers impacted by mold remediation, plumbing overflows, smoke & soot damage, burst pipes, and more. Here are just a few of the services that we offer in Southeast Michigan:
Water Damage Restoration - Indoor flooding frequently is followed by mold overgrowth. That's why it's essential to thoroughly dry an area that has been damaged by water. At Concraft, our technicians have powerful pumps that remove large volumes of water, coupled with industrial-strength dehumidifiers. Our proprietary instruments allow us to see moisture that's invisible to the naked eye.
Storm Damage Restoration - Concraft has more than 30 years of experience in the restoration industry. During those decades, we have encountered hundreds of storms and our technicians understand how to show empathy to impacted customers while providing the best service.
Toilet Overflow Cleanup - For toilet overflow issues that cannot be resolved by a plunger, our technicians fix the source of the overflow and provide you with amazing cleanup services.