Black Mold Remediation in Detroit & Auburn Hills, MI
Mold growth after water damage or from excess moisture is a concern any time it's discovered. But black mold is a particularly hazardous mold type that can result in severe respiratory distress, allergies, and other illnesses. It requires careful attention of a professional black mold remediation provider.
Concraft performs thorough, reliable black mold remediation to restore healthy environments for mold-contaminated properties in the Detroit, MI area. Health hazards can result from any mold. But destructive black mold also can contaminate drywall, paint, ceilings, wood, insulation or other material and cause structural damage. Mold growth can occur rapidly, and it's important to act quickly so Concraft experts can map out a remediation and removal plan.
We assist customers in Detroit, Allen Park, Auburn Hills, Atlas, Pontiac, Southfield, Rochester Hills, Farmington, Addison Township, Dryden, Metamora, Hadley, Allenton, Romeo, and throughout our Detroit service area with black mold remediation. Call us at 248-265-3438 or contact us online to learn more and arrange a consultation with a Concraft representative.
Concraft is Your Black Mold Remediation Expert in Pontiac, MI
For black mold remediation and removal across the Detroit area, rely on the Concraft experts for a thorough, reliable process that includes:
Moisture detection and identification: We locate the moisture or water source of your mold growth and put it out of commission.

Isolate affected areas: We perform all work in negative pressure remediation chambers constructed of plastic sheeting and other barriers to mold spore contamination.

Mold removal: All mold growth is removed, or encapsulated when physical removal becomes too difficult or not possible. Affected air is cleaned to eliminate or reduce mold spores to a normal level throughout the property.

Remediation and restoration: HVAC, air ducts, and vents are decontaminated and sanitized of any detectable mold. Debris from affected structural areas is removed. Affected area or surface restoration is performed.

Content restoration: Personal belongings, furniture, electronics, appliances, etc., are cleaned and sanitized, if possible. Unsalvageable contents are discarded.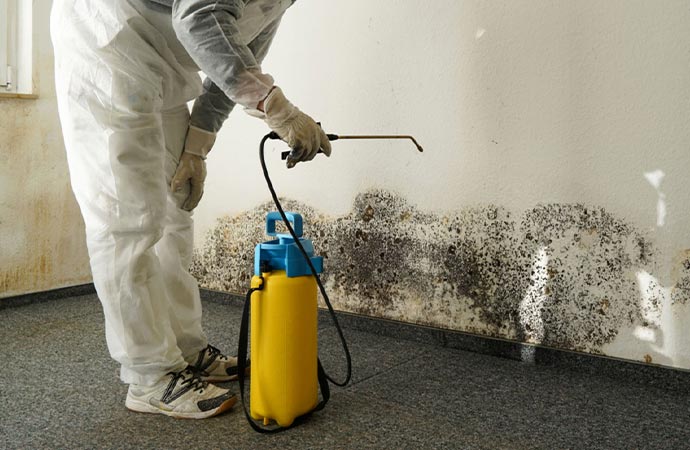 Trust Concraft For Black Mold Remediation in Ann Arbor & Oakland, MI
Concraft has served Detroit-area homeowners and business owners since 1986, providing a wide selection of restoration options. For highly skilled, certified black mold remediation, we are Michigan's superior mold remediation specialist. We also assist customers with mold testing, structural mold, mold decontamination, wall mold, ceiling mold, floor mold, and more. Call us at 248-265-3438 or contact us online to learn more and book an appointment with a Concraft team member.