Wood Floor Damaged from Leak in Detroit, MI
If you have wood floors in your home, they might get damaged by coming in contact with water for an extended long period of time. Accidents like a toilet overflow, sink overflow, ceiling water damage, or a pipe leak seep water onto your wooden floor and damage it. Water is capable of encouraging mold growth resulting in wood rot, and severe structural damage.
For the best available wood floor damage restoration services in Canton, Auburn Hills, Troy, Novi, and other cities we serve in SE Michigan, be sure to contact Concraft. We are the local water damage restoration expert. Call us at 248-265-3438 for structural damage repair, and preventing mold damage. 
Wooden Floor Structural Damage Repair in Detroit, Pontiac, Canton & Warren
Structural damage caused by water might pose to be quite troublesome, as it produces a bad odor along with visible rot and damage. Concraft can help you in such situations. We are the leading water damage restoration company in Southeast Michigan, serving sincerely since 1986. We have helped countless homeowners with their wooden floor damage. Our restoration team has the experience and the knowledge to provide you with excellent repair service and bring your property back to its pre-loss condition. 
Dripping water or an undiscovered pipe leak may be present for a long time and cause damage beyond repair. It may not always be possible to restore everything back to the way it was. Sometimes, replacement is required too, but we have you covered. With the help of state-of-the-art equipment, we will ensure your wooden floor is ready to be stepped on again. 
Why Choose Concraft for Your Home?
Trusted Since 1986
Highly-Trained Restoration Team
IICRC Certified Crew
ANSI Standards Maintained
Experienced Crewmates
State-Of-The-Art Equipment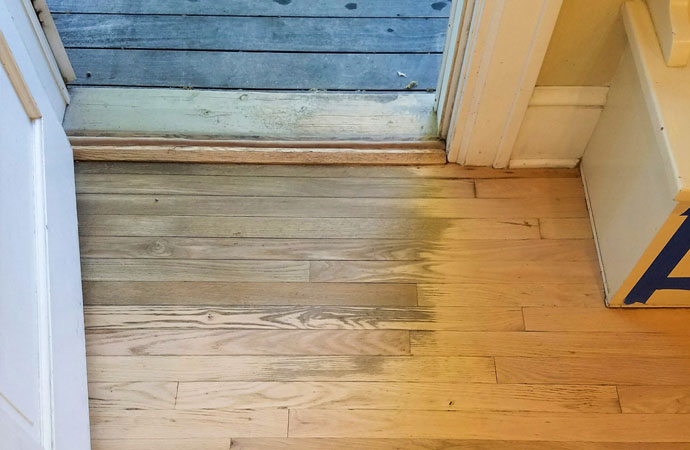 Concraft Restores Your Damaged Wood Floor in Detroit & Auburn Hills
Water damaged wooden floors may lead to a mold infestation if immediate actions are not taken. Try to avoid spilling water on your wooden floor. Moreover, a leak may be present inside the walls of your house without you ever knowing. Call in professionals like Concraft, to detect and find leaks in your walls to prevent more expensive repair bills.
Let Us Stop Mold Grown from Your Water-Damaged Floor in Grosse Pointe
Concraft also specializes in mold remediation with effective tools and equipment, we provide complete mold removal services all over Southeast Michigan. If your wooden floor damage is more than two days old, there might be mold growth in progress. Safely recover from wooden floor water damages with our expert help in Auburn Hills, Grosse Pointe, Saint Clair, Plymouth, and more surrounding cities. Call Concraft today at 248-265-3438 to repair the water damages and prevent mold growth in time.