Restoration Services for Government Properties in MI
A government building that has been damaged by fire, water, or any other disaster, such as a public school, office, or hospital, creates a significant amount of inconvenience for everyone who uses the building, including staff members and visitors. A well-equipped restoration company with an experienced team will act as a fast and effective solution to get the property back to its pre-damage condition as soon as possible.
At Concraft, we provide full-fledged restoration services for fire, water, storm, and mold-damaged government facilities. Under our damage restoration services for commercial properties, we restore public schools, hospitals, offices, and more. Call us at 248-265-3438 to get our restoration services for government properties in Detroit, Troy, Almont, Ann Arbor, and other places within our service area.
Damage Restoration Process for Commercial Facilities at Concraft
We provide a custom emergency response plan as part of our damage restoration process to get the best outcome. Our superior damage restoration process includes:
Commercial facilities are assessed by Concraft.
Based on damage and safety concerns, a tailored repair strategy is created.
Standing water is removed and impacted areas are dried using cutting-edge technology.
Structural damage is repaired, including walls, ceilings, and floors.
To eliminate trash and toxins, damaged areas are cleaned and disinfected.
To verify all damage has been rectified, an in-depth inspection is done.
The restoration procedure is fast, thorough, and efficient.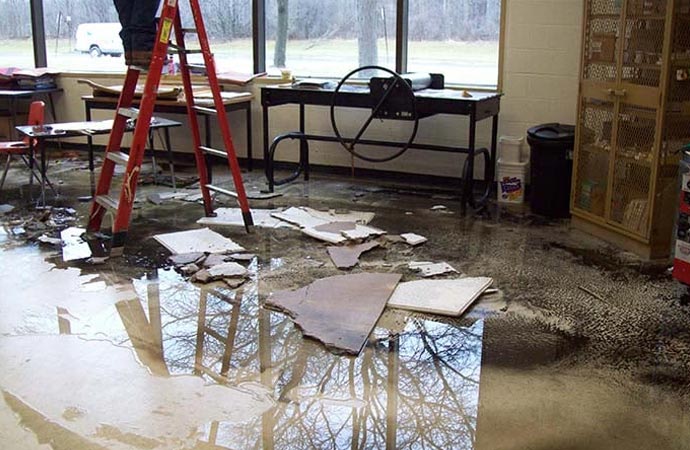 Rely on Concraft for Superior Restoration Services for Government Buildings
At Concraft, we have nearly four decades of experience in the restoration industry. We also have the necessary tools and certified technicians to offer the best restoration services. So you can count on us to meet your restoration needs for government buildings. Our customers also verify our work through positive online reviews. For 24/7 emergency response, contact us online.