Water Damaged Flooring Removal in Detroit & Pontiac, MI
Assessing damage after your home floods can be challenging and stressful. You want cleanup and repairs to begin as soon as possible, and after meeting with your insurance adjuster, demolition of all water-damaged construction materials has to begin quickly. Water-damaged flooring, drywall and insulation likely top the list.
Concraft will remove your water-damaged flooring efficiently and thoroughly to keep sources of mold contamination in check. In optimal conditions, mold spores can take 24 to 48 hours to spread over a surface if moisture and a food source are in ample supply.
For thorough, reliable water-damaged flooring removal, call the professionals at Concraft at 248-265-3438 for assistance in Detroit, Auburn Hills, Bloomfield, Canton, Livonia, Warren, Canton, and throughout our Detroit Metro service area.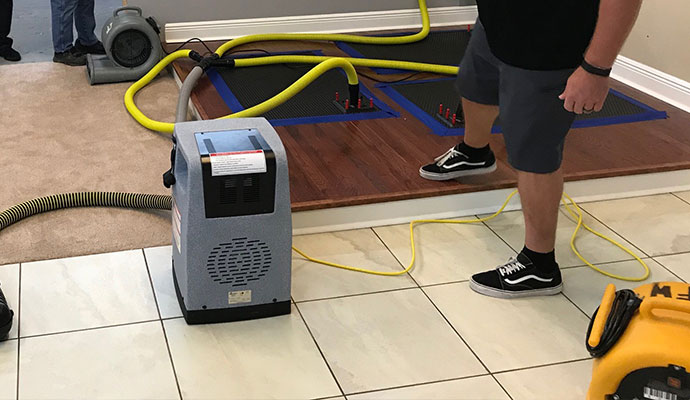 Superior Wet Flooring Removal in Auburn Hills
Removing water-damaged flooring might appear to be a simple process, but experienced professionals, such as those at Concraft, have the training, skill and equipment to perform floor removal in the most efficient manner. For more than three decades, Concraft has been the Detroit area's top water damage restoration company.
Since 1986, we have provided superior water-damaged flooring removal services. Our professionals will thoroughly inspect flooring for wet, damp, or moist patches. Our advanced, moisture-detection equipment will make sure that no wet flooring is left behind to become susceptible to mold contamination.
Why Concraft For Wet Flooring Removal in MI?
All Concraft restoration services, including water-damage flooring removal, come with these benefits:
24/7 emergency service
State-of-the-art equipment
Experienced in water damage
ANSI Standards maintained
IICRC-certified technicians
Rated A-Star by BBB
In business since 1986
Trust Concraft For Reliable Water-Damaged Flooring Removal in Oakland, MI
You can rely on Concraft for thorough, effective water-damaged flooring removal services in Detroit, Auburn Hills, Pontiac, Oakland, Ann Arbor and throughout our Detroit service area. We have more than three decades of experience and offer additional services for water damage restoration, water extraction, mold remediation, and more. Call 248-265-3438 or contact us online to learn more about our water-damaged flooring removal, and to arrange a consultation.