Smoke-Stained Ceiling Restoration in Bridgewater & West Bloomfield
After a fire disaster, you are left with a huge mess. After cleaning all the destroyed property smoke stains are your biggest enemy. Walls can have stains from tar and nicotine as well. This can leave a smoke odor in the living space. 
Concraft can be your best friend when a situation like this comes. Our talented team has been with Bridgewater, Detroit, West Bloomfield, Port Huron, and other service areas for almost 4 decades. Say no to smoke and soot on ceilings or walls. For any emergencies ring us up at 248-265-3438 or get in touch with us through an online emergency form.
Importance of Cleaning Your Ceiling ASAP
Ceilings, floors, and walls, even without porous surfaces, can be risky to leave uncleaned. Stains can be permanent and stubborn over time. Not to mention the smoke odor that degrades indoor air quality. Moreover, over time this can do serious damage to your ceiling.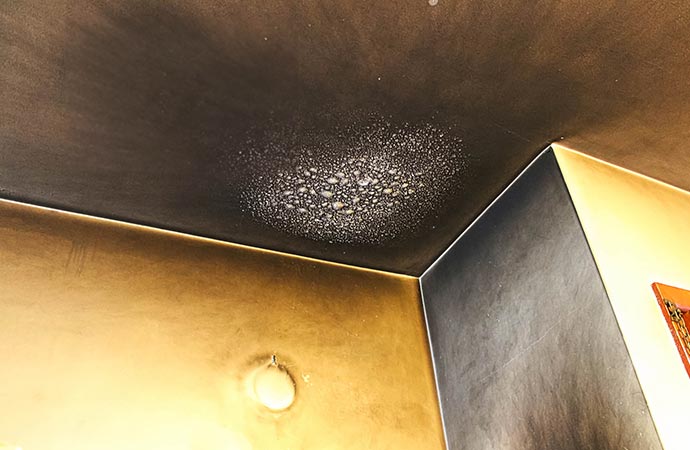 Should You Paint Over a Smoke-Scented Ceiling?
The answer is no. Painting over a smoke-scented ceiling will only temporarily cover the smell. It will come back in the long term. It's always better to clean and properly seal your ceiling before applying any paint. 
Activate Restoring Today
DIY projects may be tempting to attempt smoke-stained ceiling cleanup and restoration. However, the risks of incomplete or improper cleaning, and safety concerns, come along with it. Not to mention that the potential long-term damage often outweighs the potential cost savings. Hiring a professional ensures that the job is done efficiently, effectively, and safely, ultimately saving you time, money, and stress in the long run.
Concraft has been helping people restore their dream houses with our fire restoration, smoke odor removal, and smoke & soot restoration services. Speak to us at 248-265-3438 for any emergencies or contact us through our online form today.