Fire & Water Damage Restoration Services in Hamburg, MI 
Concraft has been restoring properties and helping the homeowners of the Hamburg community since 1986. Our restoration team is an expert when it comes to bringing damaged properties to their pre-damaged condition. We offer varieties of restoration services, some of which are: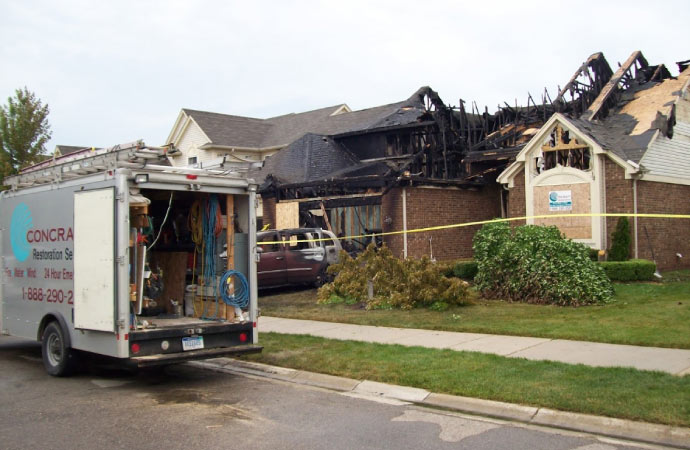 Concraft's Commitment to Helping Your Recover
We are dedicated to our line of business and provide emergencies with swift responses to minimize casualties. In order to be able to assist you in any situation at any time of day, our services and skilled staff are available 24/7/365. When damage occurs at your home or place of business, call Concraft, the trusted restoration expert in Hamburg.
We perform all sorts of restoration services for damages like storm & flood damage, broken roof shingles or sidings, fallen trees on the property, and plumbing issues, including mold remediation and more.
Services by Concraft in Bloomfield
Storm & Flood Damage Restoration in Hamburg
Storms are one the most unpredictable things and the amount of damage they deal is unfathomable. They are capable of damaging your roof, sidings, windows, and more structural areas of your home or commercial property. Additionally, flood causes wooden structures to rot and even encourages mold growth. To recover safely from such issues, and return to your daily activities, count on Concraft. 
Why Choose Concraft
IICRC-Certified Team
More than 30+ Years of Experience
24/7 Emergency Response
Licensed & Insured
Specialized Restoration Company in Hamburg, MI
Need to restore your business from a fire accident? Or need restoration for wreckage following a storm? We are here in Hamburg to lend a hand. Call Concraft when a disaster strikes to get professional help ASAP. We are available 365 days a year, standing by 24 hours to assist anytime. Contact us online or call 248-265-3438 for immediate help.