Ceiling Water Damage Restoration in Detroit
Ceiling water damage is typically caused because of water damage in some other area of the house like the roof or attic. We identify the damage to the ceiling and restore the area. When ceiling damages are fixed without addressing the origin of the damage, future ceiling damages will continue to occur.
For years, Concraft has provided the best roof water damage restoration & leak protection in Detroit, Canton, Troy, Livonia, and other cities across Southeast Michigan. We will help you recover from water damaged attics, that might be infested with mold or any other structural damage repair. Call us now at 248-265-3438.
Concraft Offers Ceiling Damage Restoration in Detroit, Pontiac, Troy, Novi, & Ann Arbor
Concraft has been serving the residents of Southeast Michigan since 1986 with outstanding water damage restoration services. We offer highly-skilled restoration teams that are certified by the IICRS to get the job done quickly and accurately. We provide professional ceiling damage restoration, identifying the origin of the problem, and then eliminating the issue.
Our restoration crew is fitted with state-of-the-art dehumidifiers and equipment to bring your ceiling back to its pre-loss condition. We will dry off for moisture, preventing mold growth, and perform structural repair wherever required. Call Concraft at 248-265-3438 for the most reliable restoration service.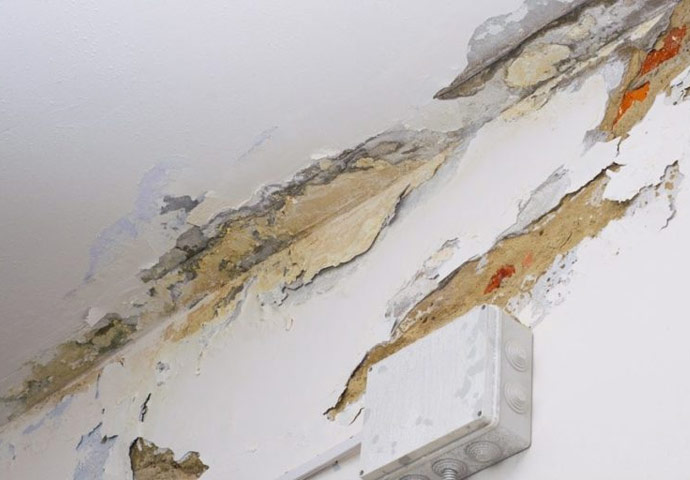 Why Choose Concraft?
Highly-Trained Restoration Team
IICRC Certified
ANSI Standards Maintained
Operating Since 1986
Experienced Crewmates
State-Of-The-Art Equipment
Reliable Service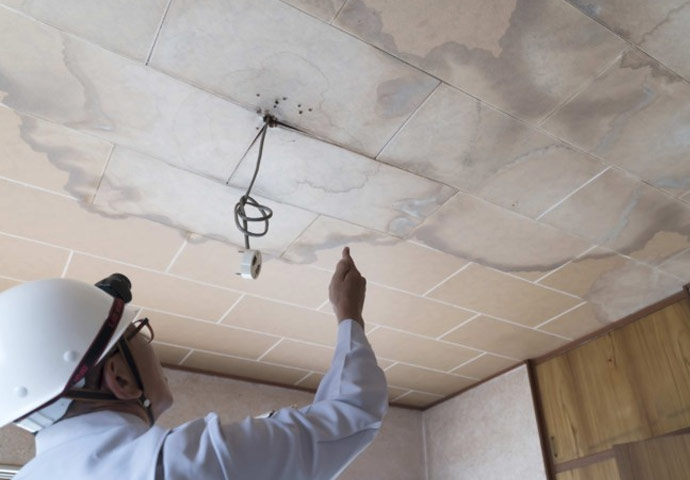 Causes of Ceiling Damage in Pontiac, Grosse Pointe, & Brighton
Roof Leaks
Roof leaks lead to be very disastrous as water seeps through them into the attic and then the ceiling. Water entering through roof leaks can cause lots of damage like attracting mold growth, wood rot and structural damage. Storm and heavy rains can cause roof shingles to go missing and form leaks on the roof. Issues like this need to be fixed before trying to repair the ceiling. Luckily, we can repair your roof leak and then move down to the ceiling.
Bathroom or Toilet Overflow
If a bathroom upstairs starts to overflow, it may cause quite a lot of damage to the ceiling underneath as well as other structures. Water absorbed into the structures can be the concern of nasty mold growth. A flooded ceiling with water stains, discoloration, and mold spots are all indications of an upcoming ceiling water damage scenario. However, we offer toilet overflow cleanup and ensure complete drying to prevent any chance of mold growth.
Air Conditioner Condensation
Condensation from an A/C unit can lead to tremendous ceiling water damage when the air conditioner's evaporator coil is housed in the attic or in an upstairs closet. Condensation produced by this coil goes through a drain line that is connected to the plumbing system. Sometimes dirt in the coils will form a blockage, causing water to overflow the drain pipe. This can result in discoloration on your ceiling, walls and water damage.
Water Damaged Structural Areas
Concraft focuses closely on the structures of your home to find damages and works carefully to repair them. We cover these areas that might be affected by water damage: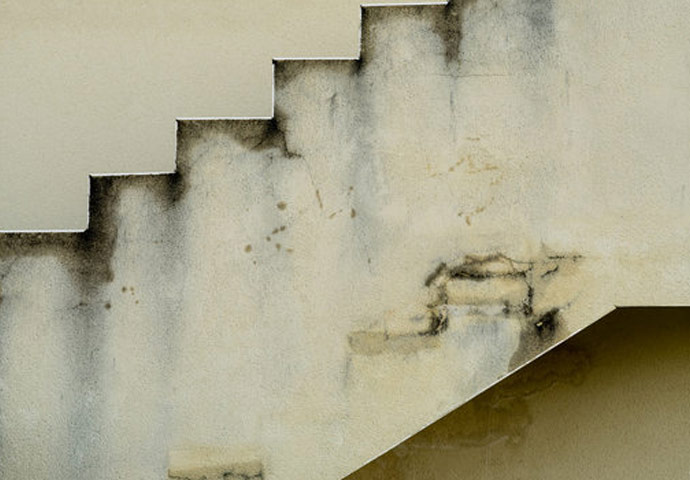 Trust Concraft for Expert Ceiling Water Damage Repair in Canton & Ann Arbor, MI
When you notice your ceiling to be damaged by water, or see wet spots, call Concraft for professional help. We will help you dry your ceiling, perform water extraction, and repair any structural damage. We will bring your property back to its pre-loss condition. Concraft also offers mold remediation and insurance claim assistance to help you get through troublesome paperwork with ease. We serve customers on a 24/7/365 basis in Canton, Troy, Pontiac, Auburn Hills, and more across Southeast Michigan. Call us now at 248-265-3438 to recover from ceiling water damages.