Restoration for Restaurants in Detroit, MI
Your restaurant is a major investment that must be protected and restored in the wake of major damage. At Concraft, our restoration experts have the experience, expertise, and equipment to help you bounce back ASAP when your restaurant is hit by a fire, flood, devastating storm, major accident, or some other disaster. Concraft will help you restore your property to its pre-loss condition in Auburn Hills, Detroit, Bloomfield Hills, Oakland, and other cities throughout Southeast Michigan.
Concraft has been the leading disaster restoration company in the Greater Detroit Metro area since 1986. We provide restoration services for all sorts of commercial properties, including restaurants, stores, shopping malls, hospitals, and churches. We deal with various types of restoration damages including fire, water, storm & flood damage, and mold remediation. To learn more about our services, give us a call at 248-265-3438 or click here to make a reservation.
Make an Emergency Response Plan (ERP) for Your Restaurant in Detroit, Pontiac, Troy & Canton
In the event of a disaster, havoc is unleashed. Your restaurant staff, chef, manager, and customers could all be in danger without an organized plan of action when an emergency surfaces. That is where Concraft enters the picture.
Obtain one of Concraft's custom-designed Emergency Response Plans (ERP) for your restaurant to protect everyone and minimize damage to the surroundings in the event of a catastrophe. Because each restaurant is unique, so are our emergency plans. We set emergency guidelines to be followed by the staff to help to evacuate people in an orderly fashion and minimize injury and property damage.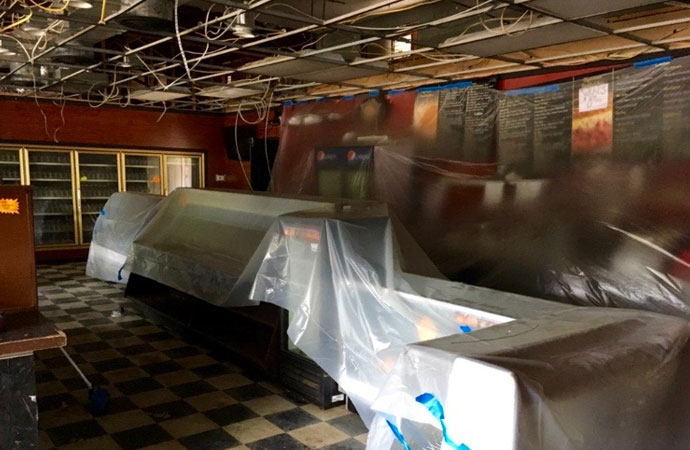 Benefits of Choosing Concraft to Restore Your Restaurant in Detroit & Auburn Hills
Detailed Damage Inspection
IICRC-Certified Team
Complete Disaster Restoration
Quick & Efficient Recovery
24/7 Emergency Response
Insurance Claim Assitance
Let Concraft Restore Your Restaurant in Pontiac, Auburn Hills, & Detroit
Concraft is the company to call to recover quickly from catastrophic events. We are certified for handling all types of damages including fire, water, storm & flood, and have earned an A-plus rating from BBB. We even provide solutions to secondary damages such as smoke, soot removal, mold, and mildew infestation. Our emergency crews are on standby 24/7/365 to assist those in Shelby Township, Warren, Canton, Brighton, and other cities in Southeast Michigan. When you need our help, call us today at 248-265-3438 or click here to make a reservation.