Trusted Leader in Restoring Properties and Rebuilding Lives, Since 1986
24/7 Emergency Services
Trusted Leader in Restoring Properties and Rebuilding Lives, Since 1986
Fire & Water Damage Restoration in Ann Arbor, MI
Concraft has been serving the Southeast Michigan community for more than 30 years now with great dedication and affection. We try our best to meet the customers' needs, and it is notable that our customers are satisfied with our restoration services. Review our recently completed jobs.
Concraft's Dedicated Restoration Services
We are an industry leader in restoration services starting from fire damage repair & water damage repair to disaster cleanup & mold remediation, we perform all sorts of restoration for your property. We have upgraded tools and equipment to perform repairs with ease and accuracy.
Our restoration specialists have skills honed into them over years of work experience. We will help you get your property back in shape in no time. We offer a wide range of restoration services that include:
Concraft offers you emergency response whenever you need us 24/7 for 365 days a year in Ann Arbor and throughout Southeast Michigan. We act immediately to quickly resolve your restoration issue. Our work procedures and techniques are polished over years of experience allowing us to be very time-efficient, at the same time our services are made affordable for all.
24/7 Emergency Water & Fire
Damage Restoration in MI
Contact Concraft for Emergency Restoration Needs in Ann Arbor, MI
Facing mold problems in your house? Or need a cleanup following a plumbing leak, overflowing bathroom? Or need restoration following a disaster? Contact Concraft now at 248-265-3438 to get our expert restoration team on the way to your house. Witness our team repair your household right in front of you. We are available 24/7 for your help, call now or contact us online
Customer Reviews from Ann Arbor
Robert from Ann Arbor, MI
Reviewed on Review Central
Dec 30th, 2019
Congratulations Concraft management for the planning and completing of the repairs to our house and especially for having in your employ, Tom. He is truly and artisan of carpentry, plaster and paint.
Judith S from Ann Arbor , MI
Reviewed on Review Central
Dec 20th, 2019
All the workers were very friendly, clean, efficient, and considerate.
Completed Jobs from Ann Arbor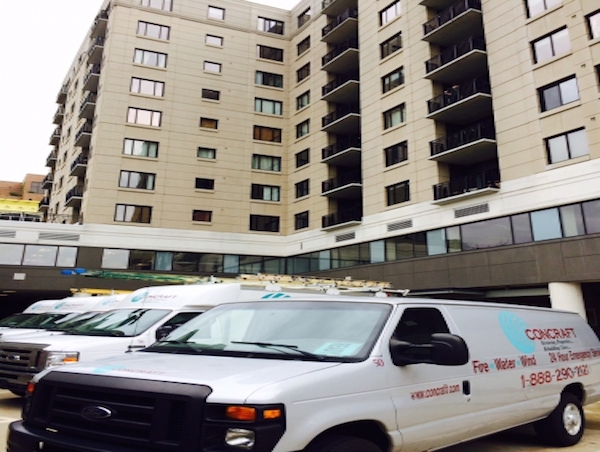 High Rise in Ann Arbor, MI
Not Completed Yet
Concraft technicians responded to a flood after a stackable washing machine on the top floor malfunctioned. The floodwater impacted all floors of the building. Because we were alerted immediately by the insurance agent and site manager, Concraft was able to mitigate the damages, save money, and get the situation back to normal very quickly.