Restoration for Hospitals in Detroit, MI
Hospitals are some of the busiest places around. Usually operating at full capacity with patients, including those in the emergency room, it would disrupt lots of lives for a hospital to close for an extended stretch in the wake of an emergency. However, natural disasters and major accidents occur without warning, and hospitals occasionally are involved. 
When your hospital needs restoration work in the wake of a fire, flood, major storm, or some other type of disaster, contact Concraft to put things back in order ASAP. We serve a wide array of corporate clients, including hospitals, in Auburn Hills, Detroit, Bloomfield Hills, Oakland, and other cities throughout Southeast Michigan. Give us a call at 248-265-3438 for more information or click here to make a reservation.
With so many people to evacuate in short order, it might also be wise to let Concraft design you a custom Emergency Response Plan (ERP) to help you evacuate the facility and find shelter for everyone in the wake of an emergency.
Disaster Restoration Services Offered by Concraft in Detroit, Pontiac & Auburn Hills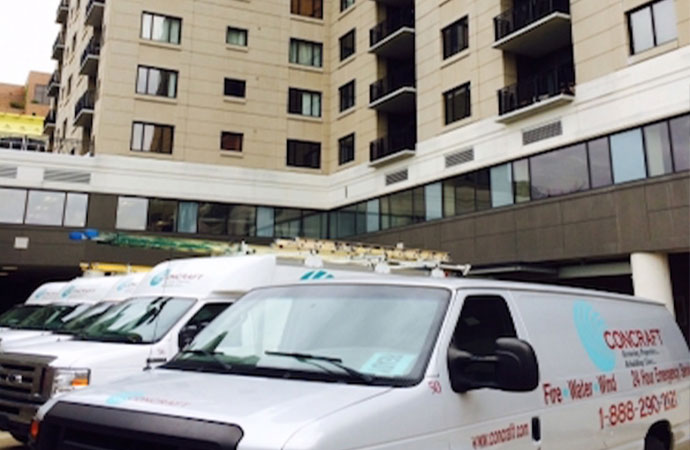 Trust Concraft to Restore Your Hospital when Disaster Strikes in Detroit & Troy
Fires, storms, floods, earthquakes, and other natural disasters can cause catastrophic damage to your hospital property and hinder the ability to provide proper medical services to patients. When you need to get your hospital back on track ASAP following a traumatic accident or major disaster, the company to contact is Concraft. For years, we have provided superior restoration services for commercial properties in Greater Detroit, including hospitals. When you need our help in Saint Clair, Livonia, Auburn Hills, Canton, and other cities in SE Michigan, give us a call at 248-265-3438 or click here to make an appointment.