Trusted Leader in Restoring Properties and Rebuilding Lives, Since 1986
24/7 Emergency Services
Window Damage Restoration in Detroit, MI
The Southern Michigan region is often visited by large unforeseen tornadoes and hailstorms that can severely damage your property. Living in these areas, one should not be unfamiliar with the havoc these storms can wreak. 
Fast blowing winds and tornadoes carry debris that may greatly damage your windows. Debris flown onto the window may cause it to crack. In other situations, some hard materials can directly break through the window if it comes with the right force. Additionally, hailstorms may also crack the glass or damage the windows panels depending on the size and speed of the hail.
Window Crack, or Damage Restoration and Replacement in Troy & Livonia
We are the leading storm & flood damage restoration company, serving proudly since 1986. We have earned numerous awards over the decades of excellent quality service. One of the notable ones is an A-star rating from the BBB, the highest quality standard.
Whether you need window crack repair, major damage restoration, or window replacement, Concraft is here to help. Our IICRC certified restoration team is equipped with advanced equipment and tools that enable us to provide you with the highest quality repairs in all of Southeast Michigan. We are available 24/7 for professional assistance regarding storm and flood emergencies. If your window gets broken or damaged due to a hailstorm or any other forces of nature, give us a call at 248-265-3438 for a thorough restoration.
Forces of Nature That Can Damage Your Window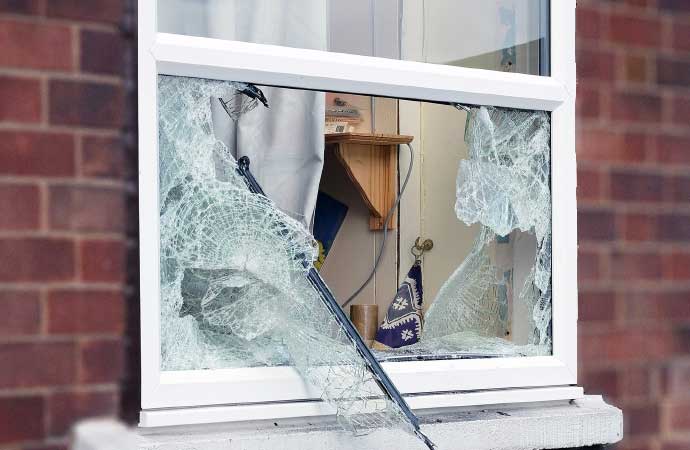 Let Concraft Repair Your Storm Damaged Window
Got your window damaged by a major storm? We provide complete restoration and bring your property to its pre-damage condition. Furthermore, we can replace your broken window with high-quality windows that trap heat inside to keep warmth in cold climates and more suitable features for your home. We are serving 24/7 in Ann Arbor, Canton, Pontiac, Saint Clair, and more nearby cities across Southeast Michigan. Call us today at 248-265-3438 for reliable and affordable window damage repair.