Water Damaged Hardwood Floor Restoration in Detroit & Auburn Hills
Accidents related to water damage may occur at any time. When water accidents occur, the first thing that is impacted is the floor, and if you have a hardwood floor, then the damaging impact is more severe. In some cases, hardwood floors are affected severely, and if you wait too long, they may become beyond repair as they may get affected with mold & mildew, wood rot, fungus, and more. The lingering damp smell may cause disturbance in comfortable living.
Luckily, for the residents of Detroit, Auburn Hills, Bloomfield, Canton, and other cities from our Detroit Metro service area, Concraft is offering water-damaged hardwood floor restoration services at a very reasonable price. Contact us online or call us at 248-265-3438 to book our services and learn more about us!
Floor Water Damage Restoration by Concraft
Concraft has the most experienced team of professionals with extensive knowledge in repairing water-damaged hardwood floors. We use top-quality products and equipment as we don't compromise the quality of our work. Before we begin our restoration work, we will extract all the water from the floor to make it properly dry with high-pressure drying equipment. Then we will repair it so there is no damage left and you won't have to replace the floor anytime soon!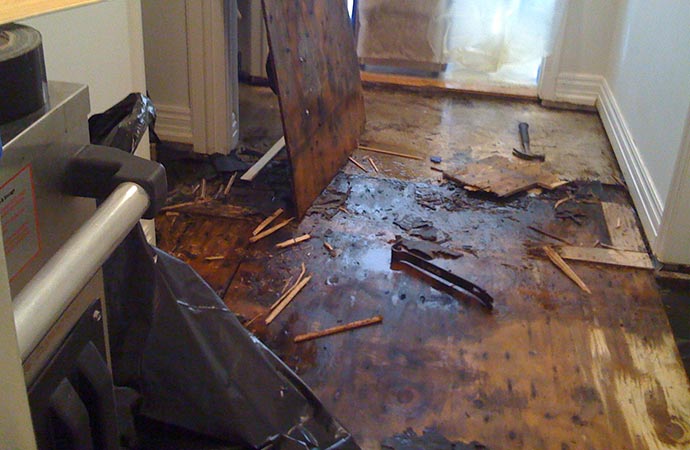 Why Choose Concraft?
Concraft has been efficiently serving the clients of Michigan for a long time. The following are a few reasons to choose us:
24/7 emergency service
Advanced cleaning & drying equipment
Experienced in water damage
ANSI Standards maintained
IICRC-certified technicians
Rated A-Star by BBB
In business since 1986
Hire Concraft for water-damaged hardwood floor restoration as we are the best in the field. We offer many other services, including damaged flooring odor removal, damaged flooring stain removal, and wood floor replacement. Call us at 248-265-3438 for further information!