Floor Mold Damage Restoration in Detroit & Auburn Hills, MI
Wood, engineered hardwood, tile, grout or floor-to-wall caulk are all common components of residential or commercial flooring. Unfortunately, they're also breeding grounds for mold after water damage, wear and tear, or persistent moisture. Floor mold damage can become widespread, and it requires a professional mold remediation specialist.
Insufficiently dried flooring, and older, constantly damp bathroom tile can also sustain floor mold damage over time. To avoid the potential health hazards and structural damage that mold poses, Concraft provides superior, reliable floor mold damage restoration and removal across the Detroit area. We're your No. 1 solution for efficient, effective mold remediation.
We assist customers in Detroit, Auburn Hills, Romulus, Bloomfield Hills, Grand Blanc, Columbus, Rochester, Rochester Hills, Lakeville, Oakland Township, and cities across our MI service area. Call us at 248-265-3438 or contact us online to learn more and arrange a consultation with a Concraft representative.
Concraft is Your Mold Remediation Expert in Pontiac, MI
For mold remediation and removal, as well as floor mold damage across the Detroit area, rely on the Concraft experts for a thorough, reliable process that includes:
Moisture detection and identification: We locate the moisture or water source of your mold growth and put it out of commission.

Isolate affected areas: We perform all work in negative pressure remediation chambers constructed of plastic sheeting and other barriers to mold spore contamination.

Mold removal: All mold growth is removed, or encapsulated when physical removal becomes too difficult or not possible. Affected air is cleaned to eliminate or reduce mold spores to a normal level throughout the property.

Remediation and restoration: HVAC, air ducts, and vents are decontaminated and sanitized of any detectable mold. Debris from affected structural areas is removed. Affected area or surface restoration is performed.

Content restoration: Personal belongings, furniture, electronics, appliances, etc., are cleaned and sanitized, if possible. Unsalvageable contents are discarded.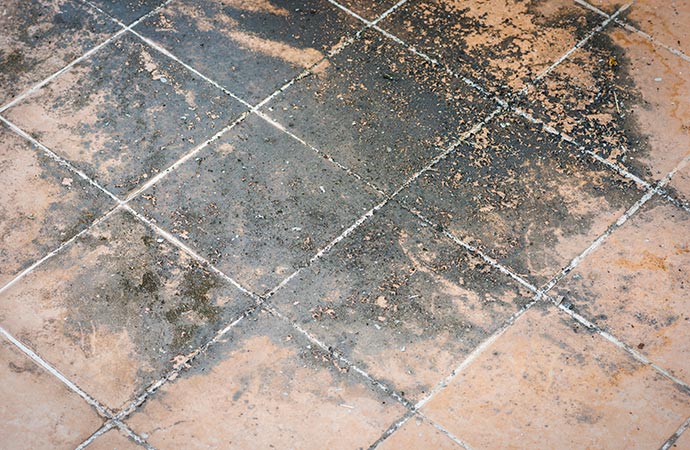 Signs of Floor Mold Growth | Call Concraft
Mold growth on floors will show signs of discolored, slimy, or fuzzy patches. I can be difficult to detect if growing in inaccessible places such as between floor joists or in the subfloor. After a plumbing leak or flood, look for these warning signs and contact the Concraft professionals ASAP:
Floor discoloration
Musty unpleasant odors
Water damage evidence
Squeaky subfloor noises
Spots from long-term water exposure
Visible mold or mildew
Cracked, warped or bulging flooring