Trusted Leader in Restoring Properties and Rebuilding Lives, Since 1986
24/7 Emergency Services
Highly-Trained Disinfecting Team in Trenton & Detroit, MI
Trained to Follow CDC Approved Techniques
Concraft is the leading disaster restoration team in Canton, Warren, Novi Detroit, and more across the Southeast Michigan region. While the outbreak of the novel human coronavirus, formerly known as COVID-19, is a disaster, Concraft focuses on providing a solution people can depend on. 
In association with various Health Authorities, Concraft has put together a team to safely and completely remove viruses like SARS, COVID-19, pathogens, and other harmful bacterial contamination. Our highly-trained team is instructed to follow safety protocols and cleaning procedures approved by the CDC. Together with the right technique and the proper equipment, we offer detailed disinfecting & sterilizing services to ensure a healthy environment for you.
Advanced Safety Equipments & Protocols
Coronavirus is known to spread through the air when a person sneezes, speaks, coughs, or breathes and enters another person via their nose, mouth, or eyes. It may also spread by touching contaminated surfaces. This is why Concraft's team arrives in Special Hazmat Suit to treat or disinfect an area infected with COVID-19.
Concraft's team is given access to state-of-the-art disinfecting and safety equipment including hazmat suits, specialized disinfecting sprays, EPA-certified disinfectants, and more. We built the ideal team to give you the ideal protection against the ever-spreading coronavirus.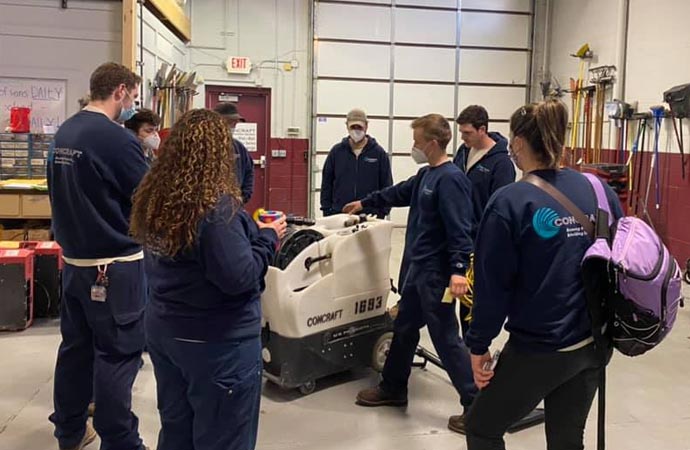 Reasons to Choose Concraft
CDC Approved Techniques
Specialized Safety Protocols
EPA-Certified Disinfectants
Proven Cleaning Techniques
State-Of-The-Art Disinfecting Equipment
Highly-Trained Team Available 24/7
Count on Concraft for a Healthy, Safe, and Clean Environment
Are you thinking of throwing a birthday party but worried about virus contamination? Or just simply want to get rid of bacterial and virus infection in your home or office space? Contact Concraft to achieve a completely sterilized and disinfected breathing environment that is safe, healthy, and contamination-free. Our specially trained disinfecting team is available in Ann Arbor, Marysville, Livonia, Birmingham, and more nearby cities in Southeast Michigan. Give us a call today at 248-265-3438 to get started.