Highly-Trained Disinfecting Team in Detroit, Pontiac & Livonia, MI
Achieving a bacterial, viral or other contaminant-free environment requires the knowledge of highly-trained disinfecting team, and use of proper disinfecting techniques. Eliminating infection risk or contamination, especially in these pandemic times, only comes with following proper guidelines and best practices.
Let Concraft disinfect, clean or protect your residence or business with CDC Approved Disinfecting Techniques that are tested and most effective. Our highly-trained disinfecting team incorporates best practices and safety protocols provided by the CDC to fight or eliminate any signs of COVID-19. We also use CDC-recommended and EPA-Certified Surface Disinfectants to safely remove and destroy harmful viruses. Refer to our cleaning & disinfecting services and our use of proper disinfecting equipment here.
Concraft Has Advanced Protocols & Equipment in Troy, MI
COVID-19 (coronavirus) is known to spread through air via a sneeze, cough, speaking, breathing or other means of entering others' mouths, lungs or eyes. It can also spread by touching contaminated surfaces. The Concraft highly-trained disinfecting team used HAZMAT and other equipment to treat or disinfect specified spaces, areas, surfaces or fixtures.
Concraft has state-of-the-art disinfecting and safety equipment including HAZMAT, specialized disinfecting sprays, EPA-certified disinfectants, and more. We employ a highly-trained disinfecting team to provide superior protection against COVID-19 and other potential contaminations.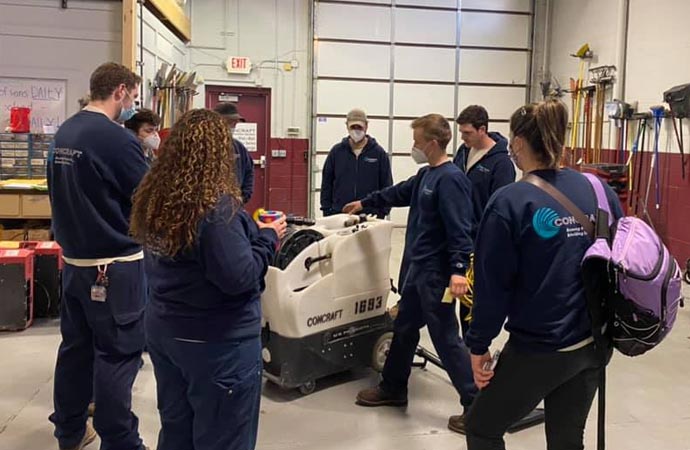 Why Choose Concraft For Gym or Fitness Center Restoration in Detroit?
Licensed Restoration Company
IICRC-Certified Crew
Experienced Team
Detailed Damage Inspection
Thorough Restoration
State-of-the-art Equipment
Rated A-Star by BBB
Available 24/7
Choose Concraft For Highly-Trained Disinfecting Team in Detroit, Troy & Ypsilanti, MI
Cleaning is the necessary first step in any disinfection process. Cleaning removes organic matter, salts, and visible soils, all of which interfere with microbial inactivation.
Concraft and its highly-trained disinfecting team use all proven methods, including ULV fogging and wipe-down/wet-down procedures approved by the CDC to ensure absolute clean and pathogen-free surroundings.
Our extensive COVID-19 & virus cleaning services are available in Canton, Plymouth, Waterford, Troy, and nearby cities in Southeastern Michigan. For residential or office/business disinfection, call Concraft at 248-265-3438 for proven techniques of achieving a completely sterilized environment.