Burst Pipe Warning Signs in Detroit & Pontiac, MI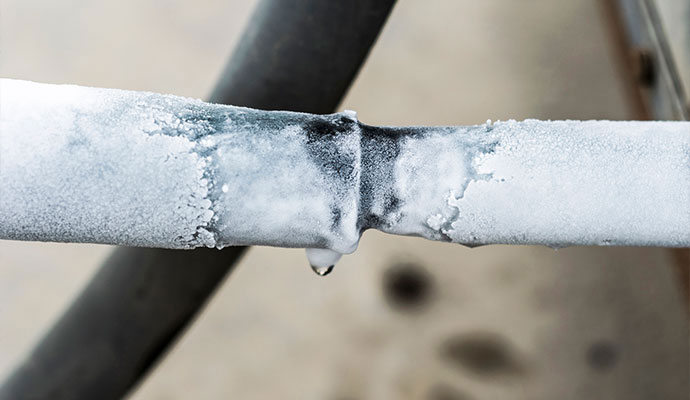 Water pipes can burst along lines, at joints or near fixtures. Burst pipes, which occur when water freezes and expands inside pipes, have the potential for a major flood or other water disaster.
Most burst pipes will be obvious right away with water spraying or flooding under sinks, down walls or through ceilings from upper-floor or attic plumbing, or outside in a yard or driveway. Professional help is required, and Concraft is your Detroit Metro area expert for burst pipe warning signs.
If your pipes or plumbing are older, have sustained several freezes over years or decades and could be experiencing repeated stress, there are burst pipe warning signs to look for. Avoid potential severe water damage from a burst pipes. In any event, Concraft is at the ready with superior effective burst pipe damage repair, as well as water cleanup & extraction to reduce the risk of mold infestation.
For service in Detroit, Allen Park, Auburn Hills, Atlas, Pontiac, Southfield, Rochester Hills, Farmington, and throughout our Detroit service area, call 248-265-3438. We also assist customers with water extraction, toilet overflow cleanup, basement water removal, plumbing overflow cleanup, and other water damage services.
Burst Pipe Warning Signs in Detroit Metro
Indicators you could experience a burst pipe down the line are often present. For a thorough inspection, Concraft can assess the burst potential of your plumbing, and provide superior cleanup, repair and restoration if a burst occurs. Some signs:
Pipe leaks or bursts can occur as a result of excessive water pressure in a weak line. These pressure spots can be detected and fixed.
Mold or other buildup in your pipes can also cause them to deteriorate and leak or burst.
Pooling or puddling under sinks or other areas adjacent to exposed plumbing indicates a leak or potential for a burst pipe under severe conditions.
Dirt, debris, deposits, blocks or other foreign matter can build up and result in a plumbing burst or break.
Rely on Concraft For Burst Pipe Warning Signs in Auburn Hills & Troy, MI
Concraft serves Livonia, Berkley, Allenton, Macomb, and other Detroit Metro cities on an emergency or other basis. For burst or leaky pipe damage repair, or to detect burst pipe warning signs, call 248-265-3438 or visit us online for an appointment to inspect your pipe damage and begin any necessary water extraction and repairs. Additional services we provide include attic water damage, wood floor water damage, roof water damage and many more.